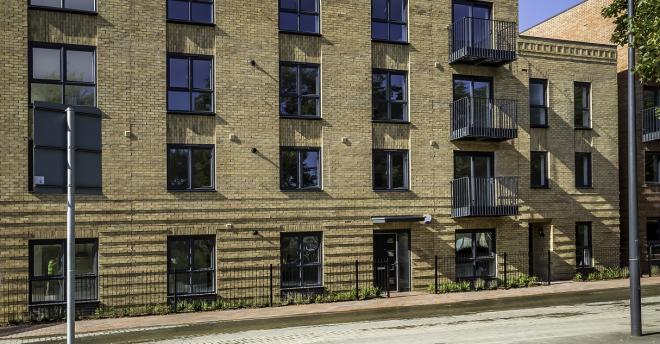 High profile place-making and regeneration project in the centre of Derby
The £100m regeneration of the Castleward area is a key element of the City's ambitious strategic development plan. We are creating a new, highly sustainable, mixed use neighbourhood on unattractive and underused brownfield location near the city centre.  The Castleward redevelopment is also significantly enhancing an important gateway to the city, thus providing wider benefits to residents and visitors.
In Brief
We are carrying out the project in a number of phases, over 15-20 years.  During this period, the project will provide about 800 new homes, 35,000 square feet of commercial retail space and new public realm.
Other future features of the regeneration include:
A new primary school
A new pedestrian link to Bass's Recreation Ground.
Phases 1 & 2
Phase 1 was completed in 2017, and provided 164 homes for sale, rent and shared ownership.  Alongside these, we built 12 new units of retail and small business floor-space, and a new public square with play area.   We also created an attractive new boulevard linking the railway station to Derbion shopping centre alongside enhancements to the public realm.
The development proved extremely popular from the start, with all the homes and most of the commercial units occupied.  The first business and retail tenants include a wedding shop, a vegetarian/vegan café, and a florist, amongst others.
We completed Phase 2 in early 2021.  This consisted of a further 54 new homes, a mixture of low-rise apartments, duplex-style properties and houses.  The new state-of-the-art primary school for Castleward, built for Derby City Council by Morgan Sindall, also opened for the first intake in September 2021.
Phase 3 of the Castleward redevelopment is now under construction.
Place-making
Compendium Living has a track record of long term commitment to the places we work.  We have a full-time project office on Canal Street, right in the heart of the regeneration area.  During live construction phases, this operates as our site office, and also offers local meeting and office facilities for partners involved in the project.
Compendium Living and Derby City Council aim to create a distinctive place combining high quality homes with the benefits of city-centre living.  We also want the area to be sustainable, and have a feeling of community. There will therefore also be low-level (two- and three-storey) family homes as well as apartments and maisonettes. The tenure mix will be approximately 75% for private sale and 25% affordable homes (social rented and/or shared ownership).