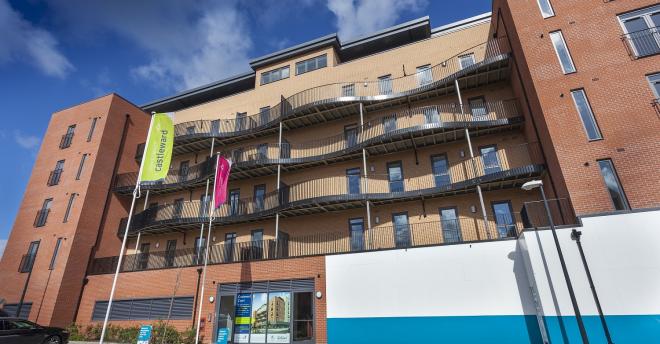 High profile place-making and regeneration project in the centre of Derby
The £100m regeneration of the Castleward area is a key element of the City's ambitious strategic development plan. We are creating a brand new, highly sustainable, mixed use neighbourhood on what is currently an unattractive and underused brownfield location on the edge of the city centre.
Phase 1, which started in Spring 2013, is now largely complete and involved the construction of 164 two, three and four bedroomed homes for sale, rent and shared ownership. Phase 1 also included the construction of 18,750 square feet of commercial (retail and small business) floor-space comprising in twelve individual units, an attractive boulevard linking the railway station to the Intu shopping centre and enhancements to the public realm. The development proved extremely popular from the start, with the first 20 homes sold and occupied in 2014.  The first business and retail tenants have now also moved into the commercial units, 24-gym Anytime Fitness.
Compendium Living has a track record of long term commitment to the places we work and has opened a full-time project office on Canal Street, right in the heart of the regeneration area. When building works are underway, the office is open to the public during normal working hours, so that anyone can visit and find out more about the project.
The Castleward project will be carried out in a number of phases, over 15-20 years, and will eventually provide about 800 new homes, 35,000 square feet of commercial retail space, a primary school and community spaces on this 30-acre site Compendium Living aims to create a distinctive place that combines high quality housing with the benefits of city-centre living which, as well as being sustainable, will have a feeling of community. Much of the housing will be low-level (two- and three-storey family homes) with a smaller number of apartments and maisonettes. The tenure mix will be approximately 75% for private sale and 25% affordable homes (social rented and/or shared ownership).
The location of the site means the Castleward redevelopment will significantly improve an important gateway to the city, providing a wider benefit to all residents and visitors to Derby.
Other features of the regeneration scheme include:
A new primary school
New public open space/square
A new pedestrian link to Bass's Recreation Ground.
For more information or to register an interest in buying a home in Castleward in the future, visit our dedicated Castleward project website.
DE1 2NL