Compendium Living donated £300 worth of Book Tokens to a local primary school in Hull to mark World Book Day.
We donated the tokens to Spring Cottage Primary School, close to our development The Leeway 2 in Ings, Hull.  We wanted to help the school add more books to its library, and improve their book collection.   This will then hopefully encourage the children to read even more.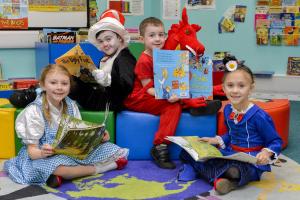 World Book Day (which was 7th March this year) encourages children across the country to come together to appreciate reading.  One of the ways they celebrate the day is by coming to school dress as their favourite storybook characters.   Spring Cottage Primary School pupils were no exception, with costumes ranging from Harry Potter to the Cat in the Hat!
Frances Taylor, Year Two Class Teacher and English Leader at Spring Cottage Primary School said: "We're delighted to have been given £300 worth of book tokens to spend on resources for our classes. As a school, we have worked hard to promote a love of reading and our pupils now see reading as a treat.
"These tokens give us an opportunity to revitalize our reading corners.  As a result, we can give the children a wider range of choice when it comes to reading for pleasure.
"We are extremely grateful for the kind gift and we look forward to choosing some exciting, engaging and gripping texts for the children to immerse themselves in. Thank you Compendium Living!
Wendy Lister, Project Co-ordinator at Compendium Living said: "We are delighted to have been able to help the school enhance and increase the collection of books they have.
"World Book Day is a great concept, and it's also brilliant to see so many of the children getting into the spirit by dressing up as favourite characters.  We hope they will make the most of the new books the school can now purchase."
The Leeway 2 is part of one of the biggest and most exciting housing regeneration programmes in Hull.  Working in partnership Compendium Living, Hull City Council and  Together Housing are breathing new life into Ings in east Hull.
Working with local schools is part of our commitment to supporting the sustainability of communities where we work.  Over the next few years we hope to offer similar support to other schools in the area.
Pictures copyright ©Darren Casey / DCimaging 07989 984643