In partnership with some of our sub-contractors in Hull, we recently improved a local pre-school's outdoor play-space free of charge.  To say thank you, the children presented us with a big box of builders' tea and biscuits! They also gave us a lovely folder of drawings about what they enjoy doing on their new outdoor play-space.
Compendium Living is working on the regeneration of Ings, in east Hull, with partners Hull City Council and Together Housing.  As with all our projects, we are keen to do more than just build houses in Ings.  Therefore when the opportunity came along to help a local pre-school improve it's outdoor space we were happy to help.
Neasden Pre-school & Extended School in Ings, Hull, previously had outdoor space that was all grass.  These areas became muddy and unusable following wet or snowy weather, limiting the opportunities for children to play outside.  With contributions from some of our subcontractors we replaced a small grass space with tarmac to provide an all-weather surface for the pre-school.
We also provided bamboo screening to the boundary fence, improving privacy to the outdoor space from the main roads.  In addition, we installed a flagstone path across another grassed area to help children and staff get to their flowerbeds.
No longer having to restrict outdoor play due to unsuitable conditions, the children of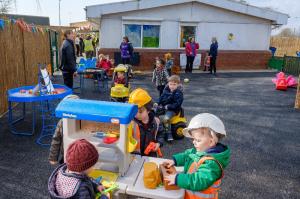 Neasden Pre-school can now enjoy the outdoor space all year round.  They will be able to widen their outdoor learning and do activities and play games that were previously limited.
Debbie Allen, Deputy Manager at Neasden Preschool said: "Our new and improved outdoor area looks amazing! We are so grateful for all of the help received from everyone involved.
"The children are already making the most of the space.  I am sure they are really going to enjoy being able to play on the new area."
Wendy Lister, Project Co-ordinator at Compendium Living, said: "We are delighted to help Neasden Pre-school improve their outdoor facilities. We endeavour to support local communities throughout our regeneration projects, and this is such a popular and important community resource."
Compendium Living were helped by O'Donnell Civil Engineers Ltd who made a major contribution to this project by completing most of the works free of charge. Other subcontractors who contributed to the work include: Bonus Plug-In Systems, Northern Gas & Plumbing Services, JLP Scaffolding, Steve Kane Ltd, Cardwell Construction, Thomas Niamh Contracting Ltd and Tony Cook Contrac