Derby City Council Chief Executive and local councillors recently visited our Derby development to mark the opening of our brand-new show homes.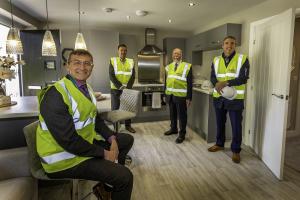 Compendium Living recently welcomed members of Derby City Council to the latest phase of its Castleward development, on Liversage Street, Derby.
Paul Simpson, Chief Executive of Derby City Council, Cllr Roy Webb, Cabinet Member for Adults, Health & Housing and John Gilman, Principal Regeneration Manager, all came to Castleward to look at our brand-new two-bedroom apartment and duplex show homes, which opened in August.
The council members also met with Chris Timmins, East Midlands Area Director.  They discussed how the development has been operating following the Coronavirus pandemic and how it will contribute towards the economic recovery of Derby.
Cllr Roy Webb said: "I'm delighted to see the advances being made at Castleward despite the difficulties of working through the pandemic. At a recent visit to the City, Government Minister Robert Jenrick expressed interest in progress in the Castleward area following his visit to the site last year.
"I've been tremendously impressed, seeing the COVID safe practices in operation at what is a key development for the city.
"These show apartments demonstrate the high standard of accommodation being built on the site and I'm very pleased that sales are already being made on this, phase 2, of Castleward. Continued investment in this type of development shows the confidence of investors in our vision for inner city living and its importance to the recovery and revitalisation of Derby."
Chris Timmins added: "Castleward is an important housing-led regeneration scheme which is helping to ensure continued economic growth within Derby, whilst helping to enhance to local area.
"It was a pleasure to meet with members of the council to share the range of measures in place at Castleward to keep the workforce, customers and existing residents safe, whilst launching two new showhomes and ensuring construction remains underway in a responsible and socially distanced manner."
The members of the council saw the new safety measures that have been put in place in response to the pandemic.  These include protective Perspex screens, strict social distancing and personal protective equipment where necessary.
The development is the latest phase of Compendium Living's £100 million-pound Castleward regeneration scheme with Derby City Council and Homes England, which started back in 2012. It consists of a stylish selection of 54 two and three-bedroom homes, low-rise apartments, maisonettes and duplex-style properties, which are being built by sister company Lovell. The development also includes 12 affordable apartments built to the same high standard and quality.