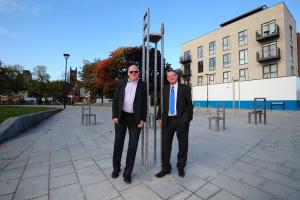 Compendium Living are delighted to unveil the stainless steel chair sculptures that we commissioned for the new public square and boulevard that form part of our Castleward scheme in Derby.
Produced for us by Derbyshire artists Sculpture Works, the eye-catching structures range in size from 500mm to 4m, and commemorate the trades and industries that historically operated in the Castleward area.  The bases of the chairs incorporate tools from the various trades featured, including bookbinding, leather-working, ironfounding and printing.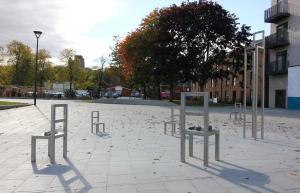 Sculpture Works consulted local people about the area's industrial heritage, and worked closely with Derby Industrial Museum who kindly allowed them to borrow original trade tools to help with the designs.
The sculptures are simple, attractive and robust, and we believe they will enhance people's experience of the boulevard and public square for many years to come.  Further sculptures will be added to the area in the next few months.