We were delighted to recently receive planning permission for over 100 new homes for sale on the site of a former Liverpool primary school.  The Joseph Williams School in Belle Vale, which closed in 1997, was once attended by the young Paul McCartney.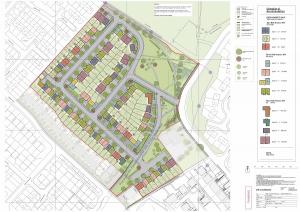 Work is already underway on part of the school site, where we have nearly completed 26 affordable homes for Riverside.   The remaining area of the site will now be redeveloped with much-needed 2-, 3- and 4-bedroomed houses for sale.  The development plan also includes significant landscaped green space, providing improved pedestrian access to local shops and other amenities.  The work will be carried out by our house-building partner, Lovell.
Belle Vale is one a group of former council estates in south east Liverpool known collectively as Lee Valley.  This development is our latest contribution to the long-term regeneration of the area, led by Riverside.  High quality, reasonably-priced homes to buy in the Lee Valley area are in short supply and demand is strong.  Increasing the amount of home ownership here is helping to support the community's long-term sustainability.
Work on our new development is due to start in summer 2017 and should be completed in approximately three years.   On May 3rd, local residents were invited to our site office to see the final plans before building commences.
Compendium Living managing director Dave Bullock said: "We are delighted to be embarking on the next phase of our plan to provide high-quality new homes and environments for people who want to make Belle Vale their home. Working with Riverside, Lovell and Liverpool City Council over recent years, we are continuing to make a difference in this part of Liverpool."