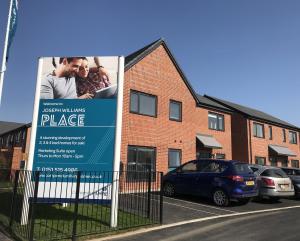 We were delighted to launch our latest development in Liverpool, Joseph Williams Place, last weekend.
On Saturday 21st April, in glorious sunshine, we released the first homes for sale at this site.   We marked the occasion with the opening of temporary sales suite and  2-bedroom show home.  A permanent sales area with further show homes and full marketing suite will open later this year.
The development is the latest phase of a large scale regeneration project with Riverside in south east Liverpool.  Known as Lee Valley, the area was formerly part of a group of ex-council estates.  One objectives of the long-term generation strategy for the area is to provide more high quality homes for sale.  This is our second development there, providing homes for sale for local residents and attracting new people to the neighbourhood.
The scheme is being build on the site of the old Joseph Williams School in Belle Vale.  The school closed in 1997 and was once attended by the young Sir Paul McCartney. As well as a mix of 110 high quality two, three and four bedroom homes, the development will also include significant landscaped green space, providing improved pedestrian access to the local shops and other amenities.
Clare Noakes from Compendium Living said; "High quality, reasonably-priced homes in Lee Valley are in short supply and demand is strong.  The launch of Joseph Williams Place therefore couldn't come at a better time. The range of homes available within the development will appeal to a real cross-section of buyers, from first time buyers, singles and couples, to growing families. With Help to Buy available on all of our homes, it is a real opportunity for buyers to take that first step onto the property ladder, whilst also helping those looking to upgrade and move into a larger home.