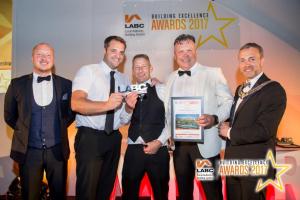 We were delighted when our award-winning Weston Heights development won yet another award recently.  On this occasion it was a Local Authority Building Control (LABC) Building Excellence Award for the West Midlands region.
Weston Heights, a development of 280 new homes with a new neighbourhood park and recreational spaces in Stoke-on-Trent, won the Best High Volume New Housing Development award.  The long-term regeneration project took over 10 years to complete in partnership with housebuilder Lovell and affordable housing association Riverside.  It won the award for achieving excellence in the delivery of outstanding construction and workmanship.
Previously the development won Bronze at the national WhatHouse? awards 2011 for Best Partnership Scheme.
As a result of its regional win, Weston Heights has now been automatically shortlisted for the LABC Grand Finals.  These will take place on Friday 10th November at the Westminster Park Plaza in London.
Managing Director Dave Bullock said: "We are absolutely delighted that Weston Heights has won a Building Excellence award.  It was our first scheme, starting shortly after Compendium Living was established in 2005.  Therefore it is fantastic that our first ever regeneration project has won such an award.
"We have formed strong working relationships with Stoke-on-Trent City Council across all of its departments.  This included building control, helping us to provide high quality homes for people in Stoke-on-Trent. We are very much looking forward to the Grand Finals in November."
Stuart Penn, Regional Managing Director at Lovell said: "It has been a pleasure to work with Compendium Living to provide new high-quality housing for the people of Stoke-on-Trent. The award is a testament to the hard work over the past 10 years on this fantastic joint project.
"The large-scale regeneration project has comprehensively transformed a run-down former mining estate in Stoke-on-Trent, turning it into a highly desirable place to live."
Paul Everall, Chief Executive of LABC, said: "Our Building Excellence Awards are an opportunity for the industry to celebrate good practice.
"Our winners demonstrate how positive working relationships with local authority building control teams achieves high quality, sustainable buildings. Therefore our awards are unique because they recognise how this cooperation improves building standards and professionalism across the industry."
Compendium Living built over 30% of the homes at Weston Heights as affordable housing for Riverside. Mark Patchitt, Director of Development and Growth at Riverside said: "We are proud to be in a partnership with Compendium Living on this scheme, which has provided much needed affordable homes for the local community. Consequently we wish the Weston Heights project all the best for the Grand Finals."