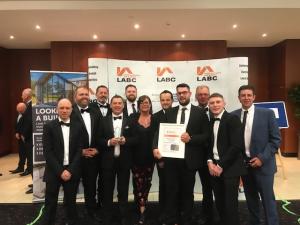 Compendium Living and our construction partner Lovell were delighted to win a regional  Local Authority Building Control (LABC) Building Excellence Award in May.
The Leeway (site 3b) in Ings, Hull won 'Best 20+ New Housing Development' at the South Yorkshire & Humberside regional awards.  This phase of the Ings regeneration project is a high-quality development in partnership with registered provider Together Housing Group and Hull City Council.  The Forest Pines Hotel and Golf Resort in Scunthorpe hosted the award ceremony on May 18th.
The 83 new homes were all affordable, with 68 houses for affordable rent and 15 for shared ownership. Many were used to re-house people living in parts of Ings due for redevelopment in later phases of the project.
Dave Bullock, Managing Director at Compendium Living said: "We are delighted to win this award for The Leeway 3b. Ings is a major regeneration project, and we are thrilled that the development has received such recognition.
"We have formed strong working relationships with Hull City Council across all of its departments, including building control.  Working with building control is helping us provide high quality homes for the people of Ings."
Hilary Brady, Head of Development at Together Housing Group, added: "A shortage of new homes in Hull has led to spiralling costs of buying and renting.  The average house in the city costs nearly six times the average salary. We want to provide much-needed affordable homes for the people of Hull, but while quantity is important, it is fantastic to receive this recognition for the quality of our homes."
Cllr John Black, Hull City Council Portfolio Holder for Housing and Regeneration also commented: "I'm really pleased that the city's housing regeneration programme has won another award.  The LABC award is further testament that our partnership approach to neighbourhood renewal work is a win-win for everyone. Residents now have a wide choice of quality, affordable, and stylish homes for rent or purchase. There are also jobs and training opportunities for local people, our communities are thriving and becoming much more sustainable. "
The Ings team are already looking forward to the national Finals in London on 9th November.