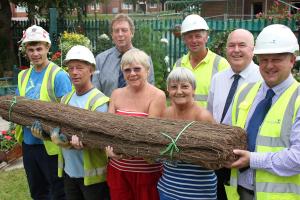 Compendium Living were happy to donate some brushwood fencing recently to the residents of Muswell Court in Ings, Hull, to help them enhance their community garden.
Muswell Court is a council-owned block of flats for over 55s immediately opposite the first of our development sites that form part of the regeneration of Ings in Hull.  Volunteers from the block maintain a lovely community garden for the use of residents; however, the garden is adjacent to the road that serves our site and a busy thoroughfare used by pedestrians also runs past it.  Local councillors asked us if we could donate the 38m of fencing to help screen the garden from public view and preserve residents' private, quiet enjoyment of their little oasis, and we were delighted to help.
The photo shows residents and keen gardeners Ms Garton and Ms Thompson receiving a roll of the fencing from Compendium Living site staff, with Councillors Gardiner and Thompson (no relation) looking on.