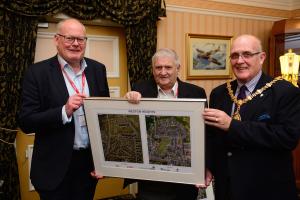 On 4th December we formally marked the end of our regeneration of Weston Heights with a presentation event at Stoke Town Hall, hosted by The Lord Mayor.  We were joined by representatives from partners involved in the project, including the residents' association.
Compendium Living formally presented Councillor Ross Irving, The Lord Mayor of Stoke on Trent, and Ernie Clarke, Chair of Coalville Residents' Association, with framed photographs.  These were aerial before and after shots of the Weston Heights neighbourhood taken 10 years apart, showing the area's transformation. Photos were also provided for the project's housing association partner, Riverside, and construction partner Lovell.
The estate originally known as Coalville was built in 1954 by the National Coal Board to house mining families.   However in the 1980s the industry declined and the NCB sold off the homes. The concrete panels used in construction deteriorated, resulting in unmortgagable homes and the estate went into decline.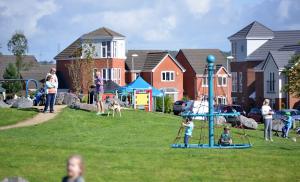 All of the partners shared a vision at the start of the project to 'remodel, restore and rename' the estate.  Now this has been achieved and Weston Heights is once again a desirable place to live.  You can find the full story of Weston Heights here.
As Managing Direct Dave Bullock says "We are enormously proud of what has been achieved there.  It was a true partnership effort, and would not have been possible without the commitment and support of Stoke-on-Trent City Council, Coalville Residents' Association and Riverside, as well as the Homes & Communities Agency and others.  These aerial photos are a memento of our partnership and a reminder of what has been accomplished here."