Compendium Living proudly sponsored a ram as part of the Derby Ram Trail.  This sculpture trail, organised by Derby Museums, ran across Derby City Centre from 27th May to 26th August 2021.  Our ram, DoodleDerby (nicknamed Baaaaaarley), was designed by local artist Carla Matthews, who specialises in cute and cartoon-like artwork. It was located at Castleward, our £100m development in Derby city centre.
Throughout the duration of the trail, we ran a monthly selfie competition.  We encouraged Derby residents to visit Baaaaaarley and post their selfies to social media with the hashtag #SelfiewithDoodleDerby. At the end of June, July and August, the winner of best selfie of the month received a gift voucher and an exclusive doodle box from Carla.  To support local businesses, vouchers were for either local coffee shop/deli Vedi or artisan food market Bustler, both located at Castleward.
Claire R. Zwozny-Bestwick, winner of the selfie competition in July, said: "I couldn't quite believe that I won July's selfie competition! It was fantastic that I won a wonderfully happy doodle box from Carla and a voucher for some tasty beer at Bustler Market."
Wendy Lister, project manager at Compendium Living, said: "I'd like to thank everyone who took the time to visit Baaaaaarley during the summer. I hope you all loved them just as much as we did! It was great to see all the selfies and award three participants with vouchers for popular local businesses.
"We have thoroughly enjoyed our involvement in the Derby Ram Trail. Sponsoring a ram on this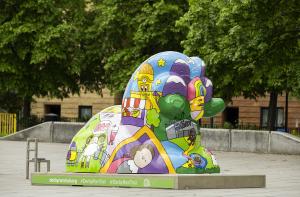 incredible art trail was hugely exciting for us all at Compendium Living.  The experience was made even more enjoyable through the participation of local people. We also owe a huge thank you to Carla for all her hard work and enthusiasm."
The 30 Derby Ram Trail rams were auctioned off in September, raising an impressive £300,000 towards Derby Museums' Endowment Fund.  The rams have now travelled to their new homes across the country, with the furthest travelling all the way to north Wales!