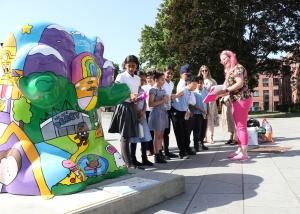 Compendium Living recently invited pupils of Dale Community Primary School to visit its ram on the Derby Ram Trail.  A group of pupils were able to enjoy an outdoor art workshop with the ram's artist, Carla Matthews.
Compendium Living has proudly sponsored the ram as part of the Derby Ram Trail.  The Derby Ram Trail is a free, family art trail organised by Derby Museums in partnership with Wild in Art.  The Trail runs from 27th May until 22nd August 2021, and features a flock of 30 unique and colourful 5ft rams across the city.
Compendium Living's ram is a design called Doodle Derby, by local artist Carla, who specialises in cute and cartoon-like artwork.  It is located on Liversage Square, part of our £100m Castleward development on the outskirts of Derby city centre.
Along with Derby Museums and other Ram sponsors, we have been keen to encourage use of the Ram Trail for family fun and educational activities.  In July we held an art workshop for Year 4 pupils of Dale Community Primary School, with our artist, Carla. Held outside at Castleward, Carla gave pupils an insight into her Derby-inspired design and the Kawaii art-style that she uses.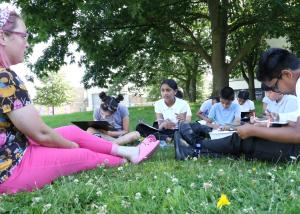 The workshop included a treasure hunt, where pupils looked for specific design elements on the Ram.  Firstly Carla explained the connection of each element to Derby and why she had included it. She also talked to the children about her inspiration, and about the Japanese Kawaii style that she uses.  Kawaii means 'cute' in Japanese and is a cartoon-like art style that is a significant part of Japanese pop culture.
Finally, Carla led a "doodle time" workshop where children drew their own 'kawaii' pictures, with art materials supplied by Compendium Living.  They each received a certificate and sticker, to mark their achievements.
Lindsay Pilkington at Dale Community Primary School, said "Our children enjoyed a fantastic workshop with Carla.  They were inspired by her artistic story and absolutely loved the doodling. It was a brilliant morning and they couldn't wait to share the experience with their classmates."
At the start of the trail, Compendium Living ran a competition on social media to find a nickname for the Ram itself.  The winning nickname, Baaaaaarley, came from an entry on Carla's Instagram page.  We are also running a monthly selfie competition over June, July and August.  We want to encourage people to visit Baaaaaarley and post their selfies to social media with the hashtag #selfiewithdoodlederby. The best selfie of the month will receive a gift voucher for a local business as a prize.
Kids can also colour in their own version of the Ram – just download the blank Ram here.  We'd love to see your ram-tastic colourings so why not upload it to social media and tag us @compendiumliving (Instagram), @CompendLiving (Twitter) or @CompendiumLiving (Facebook).