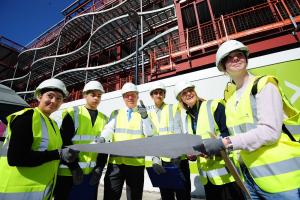 Our Castleward project in Derby recently played host to 68 budding geography students.  The year 10 students from Derby Moor Community Sports College in Littleover, Derby, visited our major regeneration scheme in Derby as part of their GCSE studies.  The visit was designed to fit in with the students' geography GCSE module on sustainability in the city and maximising quality of life for the future.
As part of their coursework the students carried out environmental quality surveys, field sketches and analysed the available transport links within the area.  They also learnt about how we use recycling and sustainable methods in the different phases of construction.
Mr Rob Hornblower, Geography teacher at Derby Moor College said: "It was beneficial for them to see the city in a different way, as many of them didn't realise how much sustainable development was actually around them.
"Since the visit, we've had a lot of positive feedback and have had two students express interest in apprenticeships.